¡ï Big width Non-woven Convolute Wheels/Rollers:

¡¡¡¡Owing to big width, they suit for workpieces with big area. They are formed by wrapping the materials around a center core, by using the wrapping surface to polish to get high resistance to wear and imparts gloosy finish to workpieces. Must be used according to the direction marked by arrow.
UsageThe walls of elevator, stainless steel kitchen utensils, stainless steel sheets and rolls, rolling metal sheets, aluminium and copper sheets, the boxes of computer, man made marble, woodenwares, etc..

Feature No blockage under high rotation speed(3000/min), good brightness, excellent grinding effect, durable for use, workpiece's surface can keep for a standard.
Specification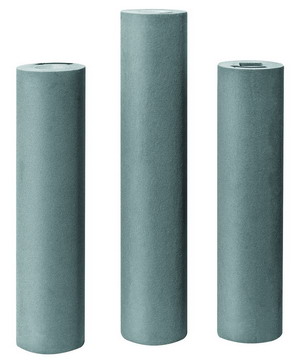 OD

7.5CM--50CM£¨3 inch--20 inch£©

Width

1CM---20CM£¨0.4´ç---8´ç£©

Grit

46#------3000#? SiC, Al2O3

Color

Grey/Red/Green/Maroon/Brown/Dark Brown

ID
&
Matrials

Non-woven wheels:18MM/20MM/25MM, etc., Plastic Tube:50MM/76MM/100MM/150MM, etc.

Phenolphthalein tube:32MM/40MM/50MM/76MM/90MM/100MM/150MM/200MM/350MM, etc.

Aliminium tube:50MM/76MM/143MM, etc. Steel tubes of round, square etc., can also be equiped with flanges of different hole shapes and sizes, Customers can also supply tubes

Density or hardness

5P---------28P, or decided my customers

Speed

3000/min

Note: For big width of more than 40 CM, we suggest not to use Plastic tube.